Featured Movie of the Month
A successful American suspense -horror film created by Don Mancini.
the movies is all about a doll serial killer named Chucky.
Charles 'Chucky" Lee a serial killer and a voodoo practitioner who also known as
The Lakeshore Strangler
But before dying he successfully transferred his soul into a doll by means of a voodoo ritual.
But transferring his soul into a doll doesn't stop Chucky on doing what he used to do which is killing.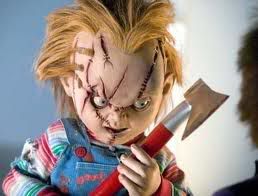 The story goes by as he seek for vengeance and as he search for a new mortal body to have
The movie was first released on the year 1988 and produces
4 more successful installments in the following years.
Installment such as Child's Play I(1988)Child's Play II(1990)Child's Play III(1991)
Bride of Chucky(1998) ans lastly Seed of Chucky(2004).
The whole movies series gains a total gross of
$176,042,376
from a total budget of $59,000,000.